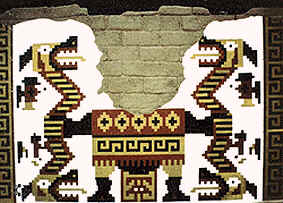 In this way, power was born of the ancestors, and they were able to materialize themselves through their living representatives. This was based on a series of ceremonies and rites among which those dedicated to the burial of religious officiants in the temples were the most important. We hope that future excavations in the fill covering the old buildings will uncover the tombs of the priestly elite who served the ancient capital of Moche.
This act of renewal allowed the elite to improve or acquire features that became part of the new temple, reflecting the social and structural changes that were taking place at the heart of Moche society. Both acts of «burial» -that of the dead as well as that of the temples- served a basic function: to justify the existing social order in Moche society. But this occurred at the ideological and symbolic level in a way that recalls natural renewal which took place by «burying» seeds in the earth. Both reproductive processes spawned the various ceremonial activities and rituals that marked Moche's religious and political system.

Along with covering or burying earlier temples, rites such as offering the bones of the ancestors to the new temple and burying officiants had a direct relationship to the renewal of power. Could these have been related to the act of legitimizing power? What we have described appears to demonstrate this, although our suggestions raise many questions. Research carried out by the National University of La Libertad-Trujillo with the support of institutions such as the Sociedad Cervecera de Trujillo S.A. and the Trujillo municipality are headed in this direction.